Les employés de Deriv à Malte ont célébré la certification GPTW.
Célébration de ce succès dans le bureau de Deriv en Malaisie
Cyberjaya, Malaisie, 13 déc. 2022 (GLOBE NEWSWIRE) — Deriv, l'un des plus grands brokers en ligne du monde, a prouvé une fois de plus que les grands défis professionnels et la culture d'entreprise dynamique sont le moteur de son succès mondial. Les bureaux de Cyberjaya, Dubaï, Asuncion, Minsk, Birkirkara, Limassol, Kigali, Ipoh, Malaka et Labuan ont été reconnus comme les "meilleurs lieux de travail" pour 2022 par Great Place to Work® (GPTW).
Les bureaux de Deriv situés dans différentes régions figurent pour la première fois dans la liste des 30 meilleurs lieux de travail. La liste officielle a été annoncée sur la base des commentaires confidentiels des employés sur la culture du travail, l'engagement des employés et la satisfaction au travail, ainsi que sur un audit des politiques et pratiques de gestion par le " Trust Index© " de l'organisateur.
Les enquêtes menées dans les bureaux des différentes régions ont révélé que 100% des employés ont déclaré être traités équitablement, indépendamment de leur sexe et de leur race. Tous ont convenu que la direction est honnête et éthique dans ses pratiques commerciales. Selon les résultats de l'enquête, un environnement positif et amusant, complété par une culture de soutien, a rendu cela possible.
Les efforts et l'engagement de Deriv à construire une culture de travail axée sur les valeurs fondamentales que sont l'intégrité, l'orientation client, la compétence et le travail d'équipe ont permis d'obtenir un résultat positif. La culture de travail est ouverte et transparente et traite les employés d'origines diverses avec égalité et honnêteté.
Jean-Yves Sireau, président directeur général, déclare : "Nous voulons que Deriv soit une communauté vivante de personnes dynamiques qui aiment construire des choses, apporter des solutions innovantes à des défis commerciaux passionnants et s'amuser ensemble. Le fait de remporter plusieurs prix "Best Places to Work" est un témoignage que nous sommes sur la bonne voie !"
Cliquez sur le lien pour connaître la liste complète des bureaux certifiés de Deriv.
Célébrations de la certification GPTW dans les bureaux de Deriv.
Le bureau de Deriv à Dubaï – Un endroit où il fait bon travailler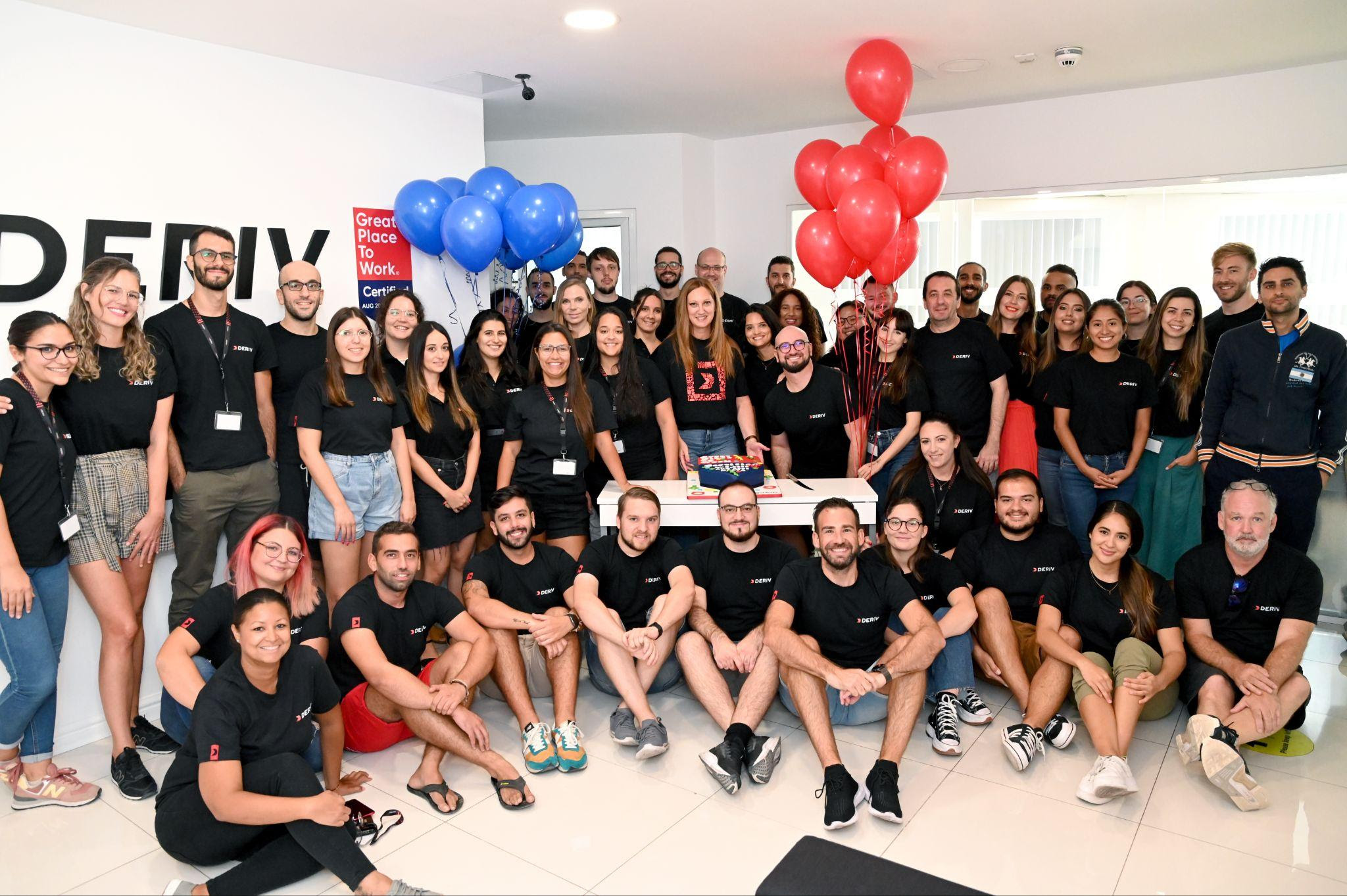 Les employés de Deriv à Malte ont célébré la certification GPTW.
Ces informations sont considérées comme exactes et correctes à la date de publication. Des changements de circonstances après la date de publication peuvent avoir un impact sur l'exactitude des informations.
À propos de Deriv
Depuis 22 ans, la mission de Deriv est de rendre le trading en ligne accessible à tous, partout. L'offre de produits de Deriv comprend des plateformes de trading intuitives, plus de 200 actifs à trader (sur des marchés tels que le forex, les actions et les cryptomonnaies), des types de trades uniques, et plus encore. Les plateformes et les actifs proposés varient selon les pays. Avec plus de 950 employés présents dans le monde, Deriv s'efforce d'offrir le meilleur environnement de travail, ce qui inclut une culture d'entreprise positive, la prise en compte en temps voulu des préoccupations des employés, la célébration des réalisations des employés et la mise en place d'initiatives pour stimuler le moral des employés.
CONTACT PRESSE
Aleksandra Zuzic
aleksandra@deriv.com
Des photos accompagnant ce communiqué sont disponibles aux adresses suivantes :
https://www.globenewswire.com/NewsRoom/AttachmentNg/5c6f2240-3a1f-4da3-aa09-6b4b4dfb5b9f/fr
https://www.globenewswire.com/NewsRoom/AttachmentNg/8e310d16-b018-48c5-a686-62d3c9ee3dd9/fr
https://www.globenewswire.com/NewsRoom/AttachmentNg/f60615e6-5693-4a8f-9a0b-b07c89b610ec/fr

GlobeNewswire Distribution ID 8711754